This Limited Edition DVD includes 85 minutes
of extra content: a 14 minute film featuring
Clare Wadd, Matt Haynes and the additional
Sarah Records discography. Plus extended
interviews with:
Amelia Fletcher HEAVENLY
Anne Mari Davies THE FIELD MICE
Alison Cousens, Keris Howard, Alex Sharkey BRIGHTER
James Hackett, Chris Quinn, John Scally THE ORCHIDS
Michael Hiscock THE FIELD MICE
Scott Purnell, Kathryn Smith, Jamie Gingell,
Dean Purnell SECRET SHINE
Paul Stewart BLUEBOY
Comes with a 'Making-of' zine, one pin badge
and a balloon! 5 different badge designs,
5 different colour balloons, totally random
which combination you will get!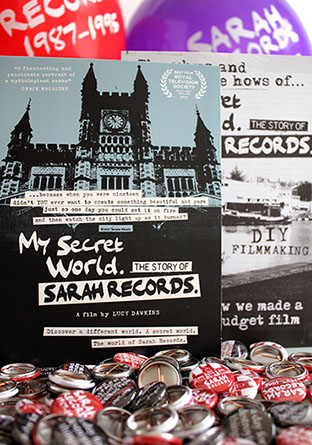 Thanks to everyone who came along to a screening of My Secret World.
There will be no further screenings in the foreseeable future.
02/05/16 Cinema Beltrade Milan Italy
29/02/16 The Victoria Dalston London UK
29/11/15 Spasial Bandung Indonesia
15/10/15 Arts Picturehouse Cambridge UK
11/10/15 Arts Picturehouse Cambridge UK
02/10/15 Athens International Film Festival Greece
26/09/15 Athens International Film Festival Greece
25/09/15 Athens International Film Festival Greece
10/09/15 Schikander Vienna Austria
28/08/15 OH Yeah Centre Belfast UK
26/08/15 Picturehouse Central London UK
13/08/15 Cinema City Norwich UK
16/08/15 Islington Mill Manchester UK
07/08/15 Rubber Film Festival Mexico City Mexico
04/08/15 Hyde Park Picturehouse Leeds UK
02/08/15 Rubber Film Festival Mexico City Mexico
11/07/15 Tom Thumb Theatre Margate UK
10/07/15 Cinemateca Sala Petrobrás São Paulo In-Edit Brazil
03/07/15 Cine Olido São Paulo Brazil In-Edit Brazil
26/06/15 Westhill Community Hall Brighton UK
29/05/15 Knitting Factory Brooklyn USA
24/05/15 Cinefamily Los Angeles USA
12/05/15 Blackmarket Rome Italy
14/05/15 Cube Cinema Bristol UK
24/04/15 BAFICI Independent Film Festival Buenos Aires Argentina
26/04/15 Glasgow Film Theatre Monorail Glasgow UK
19/04/15 BAFICI Independent Film Festival Buenos Aires Argentina
17/04/15 WFMU Monty Hall New Jersey USA
17/04/15 BAFICI Independent Film Festival Buenos Aires Argentina
12/04/15 Hackney Picturehouse London UK
13/12/14 In-Edit Music Doc Film Festival Santiago Chile
06/12/14 In-Edit Music Doc Film Festival Santiago Chile
31/10/14 In-Edit Music Doc Film Festival Bilbao Spain
31/10/14 In-Edit Music Doc Film Festival Pamplona Spain
31/10/14 In-Edit Music Doc Film Festival Madrid Spain
30/10/14 In-Edit Music Doc Film Festival Barcelona Spain
26/10/14 In-Edit Music Doc Film Festival Barcelona Spain
03/05/14 Between Hello & Goodbye Exhibition Arnolfini Bristol UK