12/02/16
REVIEWS AND ARTICLES
My Secret World included in Dazed list of
best music documentaries of 2015.
Music Works /Q&A with Clare Wadd
Michael Donaldson /8D Industries
01/10/15
REVIEWS AND ARTICLES ROUND-UP
Γιάννης Καντέα-Παπαδόπουλος /Reel.gr
Aaron Cooper /Bearded Gentlemen Music
Derek Robertson /Drowned In Sound
Stuart Huggett /The Brighton Source
Clare Wadd & Matt Haynes /The Vinyl Factory
John Slater /Sea Urchins radio interview from 1987
07/07/15
LOTS MORE SCREENINGS
It's getting hard to keep up with all the screenings that are happening around the globe. Please keep checking
here and twitter & facebook to see if
there is one near you. There are more
to still be announced...
01/05/15
LATEST REVIEWS AND ARTICLES ROUND-UP
Quintin /Perfil.com
Collective Hypsteria /blog post
14/04/15
BAFICI (Buenos Aires International Festival of Independent Films)
Three screenings of My Secret World will be held during The BAFICI Independent Film Festival in Buenos Aires this April. For screening times and more info please go here.
01/04/15
NME REVIEW
A great review from the NME!
Click the photo to read.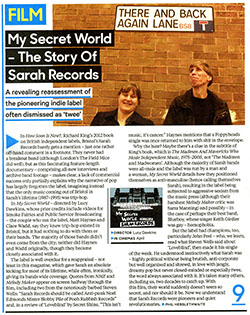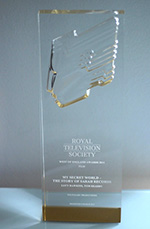 10/03/15
RTS AWARD FOR BEST FILM
My Secret World has been awarded Best Film in the Royal Television Society West of England Awards. We are delighted to receive this recognition for our self funded feature film.
SCREENING IN NEW JERSEY USA
The super cool non-commercial radio station WFMU and DJ Trouble present a special screening of My Secret World at the Monty Hall in Jersey City. April 17th at 8pm. The screening will be followed by a Q & A with Sarah Records Cofounder Clare Wadd Tickets are now on sale.
LONDON SCREENING AT HACKNEY PICTUREHOUSE
On the 12 April 2015 My Secret World will be screened at the Hackney Picturehouse in London. This screening is presented by the good folks at Doc'n Roll Festival, learn more about them on their facebook page.
This screening will be followed by Sarah founders Clare Wadd and Matt Haynes in conversation with journalist Pete Paphides.
1/11/2014
IN-EDIT FILM FESTIVAL SPAIN
In October My Secret World screened at the 12th edition of the In-Edit Music Documentary Festival. Director Lucy Dawkins was joined by Sarah Records founder Clare Wadd to introduce the film and take part in a Q+A.
In-Edit selected 8 films from the festival to screen simultaneously in Madrid, Pamplona and Bilbao of which My Secret World was one; we were in great company with the other films including American Interior, Pulp: A Film About Life, Death and Supermarkets and the Nick Cave biopic 20,000 Days on Earth.